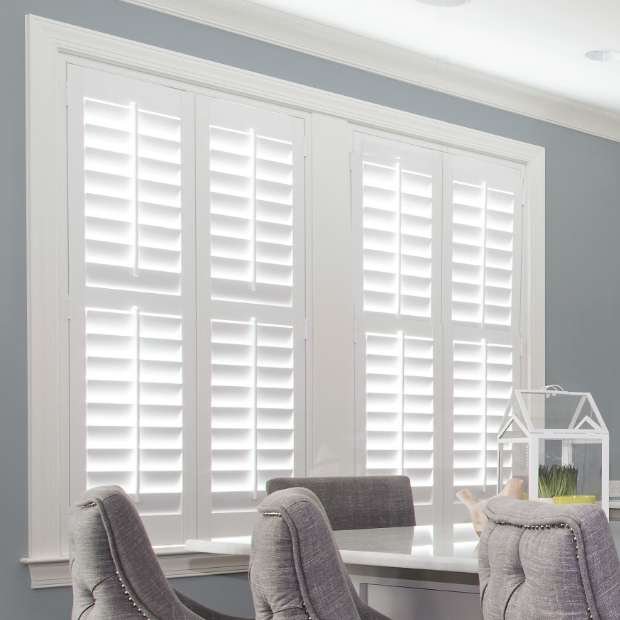 We are so excited to offer this new selection of window treatments that we will install for free! Just for being a Coastal Flooring customer!  Call Today!
Roller Shades
Wood Shades
Motorization
Honeycomb Shades
Drapery
Fauxwood Blinds
Shutters
Vertical blinds are a timeless window covering choice known for their versatility and excellent light control capabilities.
These blinds feature vertical slats that can be rotated to adjust the angle of incoming light and maintain privacy. With an assortment of materials like fabric, vinyl, and faux wood, vertical blinds can suit both residential and commercial spaces.
Their vertical orientation makes them an ideal solution for wide windows, sliding doors, and patio entrances. Vertical blinds provide a contemporary look while offering functionality that lets you effortlessly manage light and maintain your desired level of privacy.
Honeycomb shades, also known as cellular shades, are a sophisticated and energy-efficient window treatment option.
These shades are designed with hexagonal cells that create pockets of air, acting as natural insulators and helping to regulate indoor temperatures. Honeycomb shades come in a variety of cell sizes, fabrics, and colors, allowing you to personalize the aesthetic to match your decor.
They offer various levels of light control, from sheer to blackout, making them suitable for any room. Beyond their aesthetic appeal, honeycomb shades are eco-friendly and can contribute to reducing energy costs by enhancing your home's insulation.
Roller shades offer a sleek and modern window covering solution that combines style, functionality, and ease of use. These shades consist of a single piece of fabric that smoothly rolls up and down when operated.
Available in a wide array of colors, patterns, and textures, roller shades can effortlessly match any interior decor theme. They provide customizable levels of privacy and light control, making them suitable for various rooms in your home or office.
Whether you're seeking a blackout effect for better sleep or a soft filtered light for a cozy ambiance, roller shades offer a versatile and practical window treatment option.
Shades Are The Finishing Touches to Any Room
Let us help you pick out the right shades that go perfectly to any room. Schedule a call today!
© 2022 All Rights Reserved.